Our clinic is built on a commitment and dedication to our patients to offer safe and comfortable procedures. We believe communication is extremely important, and we will strive to have all your questions answered. We want to advocate for your best interests and to fulfill your expectations whether it relates to your medical condition or helps you obtain a more youthful natural look!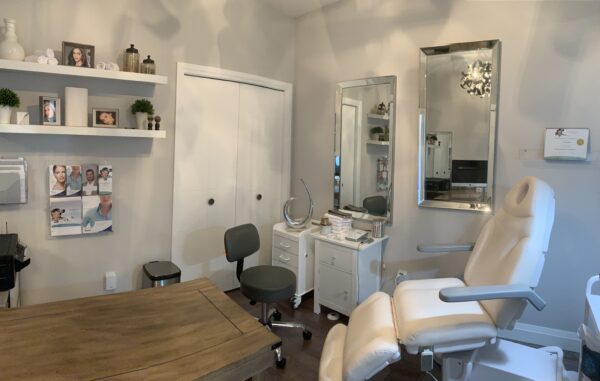 Hours of Operation:
Monday–Friday: 9:30 am–6:00 pm. (Check our website for occasional extended hours.)
On-time:
We have a policy of trying our best to offer a discreet medical or aesthetic treatment to all clients, we ask that we work as a team to ensure you arrive and leave on time, to allow privacy for the next patient or client.

Booking:
Booking for consultation and procedures is all done with our on-line calendar for credit deposit , OR e-mail using e-transfer or CASH payment. The $100 deposit paid to book is used towards your treatment cost. If you prefer to wait for treatment after you consult, your deposit is on your file to be used towards any treatment within one year of booking.
Consultation and treatment can be completed at the same appointment time.
Injection Fee:
TMD/jaw pain injections, or other medical injections not covered by your private health insurance and aesthetic injections will NOT be charged an injection fee.
If you have private insurance coverage for chronic migraine Botox/neuromodulator injections our clinic charges $150 for the injection time (usually not reimbursed by private insurance companies). We request you to be examined and prescribed Botox by your doctor if they deem appropriate. The prescription is then filled through your pharmacy of choice. Your pharmacist will assist you with possible insurance coverage and the product is delivered or brought with you on ice to your appointment.
Medical use of Botox/Dysport (Neuromodulator) not covered by your private insurance is offered for purchase from our clinic at 20 % off. There is no injection fee in this case.
Ultrasound Guidance Technical Fee: $100 included in cost of procedures.
Appointment:
During the initial assessment there is a medical questionnaire completed and a discussion about your goals, proposed unique treatment plan, expected outcome, and risks. Prior to all procedures there is informed written consent obtained.
Payment:
PROCEDURE BY APPOINTMENT ONLY!
Please BOOK ONLINE, we prefer to answer all your questions or concerns in person during your appointment. Each booked appointment is only confirmed once the Initial Consultation Fee or Appointment Fee has been purchased using PayPal Square. The initial fee payment is used towards any treatment offered from Axon Medical & Aesthetics within a year of booking.
WANT TO PAY BY CASH? E-MAIL TO REQUEST BOOKING AND ARRANGE INITIAL FEE PAYMENT.
ALL SALES ARE FINAL FROM PROCEDURES OR PRODUCT. Any touch ups are charged the per unit charge for the specific product required.
GIFT CERTIFICATES ARE ALSO AVAILABLE FOR PURCHASE.
CANCELLATIONS:
If you are feeling unwell with flu like symptoms or a family member or close contact has Covid/respiratory illness please notify our office and rebook.
We require 24 hrs. notice for cancellations and rebookings.
There is a $100 fee for missed appointments, cancelling < 24 hrs notice or if you are late by 10 minutes. We know life gets busy but we put great emphasis on offering medical and aesthetic treatments to patients with busy lives, and we value the privacy and schedule of each patient. Please cancel or rebook if you know you can't make it.
POLICIES:
We have a written privacy policy in place that complies with HIPA.
We comply with our Infection Control and Prevention Policy.
We comply with SHA's current Covid/Infectious Diseases Protocols.
VIDEO SURVEILLANCE/24 SECURITY MONITORING.
NO NARCOTICS ON SITE.
NO CASH ON SITE.
NO PRODUCT STORED ON SITE.
NO WALK-IN PATIENT PERMITTED.
SMOKE-FREE, AND PERFUME FREE ZONE.
CHILD FREE ZONE. (Please organize childcare)
EMERGENCY CONTACT:
Emergent Care/Anaphylactic: 911
Non-urgent Client Questions:
EMAIL axonmed4u@gmail.com or direct message on Instagram/Facebook messenger
Dr. Heather Gordon
Axon Medical & Aesthetics
306-974-7300 Office/Fax