MICRONEEDLING WITH COLLAGEN INDUCTION (eDermaStamp)

At Axon Medical & Aesthetics Saskatoon, Sk we offer clinically proven MICRONEEDLING WITH COLLAGEN INDUCTION treatments to plump skin, fill fine lines/scars, improve discoloration from scars and acne.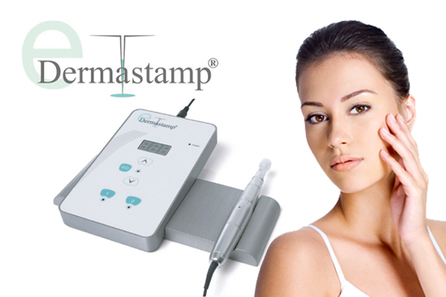 FAQs
A minimally invasive skin rejuvenation procedure. The microneedles poke the skin to create microinjuries to stimulate collagen and elastin and create channels to allow the direct infusion of hyaluronic acid serum and growth factors, deeply into the skin, to help smooth your natural skin appearance of fine lines. The plumping of the skin, filling in of fine lines, scars, and improvement of discoloration are all achievable with microneedling.
This procedure leaves you with improved skin texture and firmness, as well as a reduction in scars, pore size, fades dilated blood vessels and fine wrinkles.
Risks include: minor pink or red skin for 24-48 hrs post treatment much like a sunburn possibly with minor bleeding and or bruising. The skin may feel warm, tight and itchy for a short while. The elderly or patients with sensitive skin may recover slower.
A numbing cream is used prior to the procedure, expect to wait 20 min prior to your procedure while the numbing cream takes effect.
A cooling Hyaluronic Acid Mask is placed on the treated area after treatment, expect to wait 20 min after your procedure.
You can expect gradual improvement of the treated area over the course of several weeks, with the final results best seen after several months. The procedure can be repeated after 4-6 weeks of the first procedure.
For very minor fine lines you can use 1 treatment, for most patients 2-3 treatments (6 weeks apart) and for discoloration/acne 6-8 treatments (6 weeks apart).
*PLEASE DON'T BOOK THIS PROCEDURE IF ACNE BREAK OUT OR FACIAL INFECTION, AS IT IS NOT SAFE.
MUST BE AT LEAST 18 YEARS OF AGE. WILL TREAT IF 16 YEARS OF AGE WITH PARENT OR GUARDIAN CONSENT.
Before & After